The Accompanist - Piano Audition Backing Tracks for Musical Theatre Perfomers
In 2013 Tim produced released a new idea into the world of musical theatre called
The Accompanist
.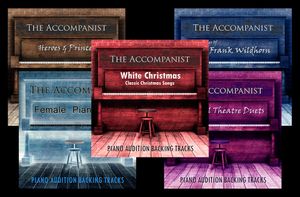 When audition candidates step into a room they are asked to perform with just a piano. Most Karaoke tracks of musical theatre songs, if they were available, were the full orchestration, but this can sound very different to a solo pianist.
The Accompanist
is a collection of piano only tracks designed for musical theatre audition candidates and performers, each track replicated in key and tempo of the original song.
The first two albums released featured the more modern songs from the Walt Disney catalogue including songs from The Lion King, Beauty and the Beast, Aladdin, Newsies and more.
The albums help prepare musical theatre performers for that big audition or performance and have even been used on Britain's Got Talent.
With the success of these albums Tim has since produced a total of 14 albums for musical theatre performers which have been popular all over the world.
Visit
The Accompanist
's website.
Albums presently available :
Heroes And Princes : An album of modern Disney solos for Male Voice.
Mermaids And Princesses : An album of modern Disney solos for Female Voice.
The Solo Songs of Frank Wildhorn : including songs from Jekyll & Hyde, The Scarlet Pimpernel and Bonnie & Clyde.
The Female Solos of Stephen Schwartz : including songs from Wicked, Children Of Eden and Pippin.
One For The Girls : A Collection of 16 musical theatre songs for female voice.
Two For The Girls (Belters) : Another collection of 16 tracks, this time for female belt voice.
Three For The Girls (Sopranos) : A collection of 16 soprano musical theatre tracks.
One For The Lads : A Collection of 16 musical theatre song for male voice.
One For The Kids : 16 songs for children from musical theatre.
Beautiful Tapesty : The Songs of Carole King
Musical Theatre Duets : 19 duets
Female Piano Pop : A collection of 15 female pop songs including Adele's 'Someone Like You' and songs by Ellie Goulding, Alicia Keys and more.
White Christmas : A collection of 18 classic Christmas songs.
Let It Go : A special Single Release of the Disney classic.
Soon to be released : A Rodgers and Hammerstein Songbook